West Edmonton Chiropractors | First Visit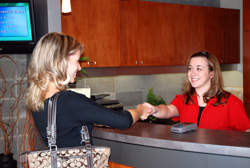 New patients often remark how "homey" our office is. That's good, because our goal is to offer state-of-the-art chiropractic care in a comfortable surrounding.
Make Yourself at Home
You'll find plenty of convenient parking and a well-lit parking lot. You will be warmly greeted upon your arrival. If you've already completed the Online Forms, great! If not, after doing so we'll likely show you a short 5-minute video and then you'll meet the doctor.
We Explain Everything First
The purpose of our initial consultation with the doctor is so we can get to know each other, to discuss your health goals and see if chiropractic is likely to help you. If it looks promising, a thorough examination will help identify the cause of your problem.
Plan on about one hour for your first visit.
We Listen
During a brief conversation and review of your health history, we try to determine if you're a good candidate for chiropractic care. We'll ask a few questions and do a lot of listening. Since ours is a partnership approach to better health, it's important that you're comfortable with the personalities, procedures and policies of our office. The consultation is a great way to find that out.
The Next Step
If we don't think we can help, we'll tell you. If we think we can help, and you agree, we can usually proceed to the next step, which is a thorough examination. Our patients appreciate the fact that we explain everything in advance!
Examination
If our consultation suggests that you'd likely be helped with chiropractic care, we'll need to perform a complete examination. Our patients often comment on how thorough our examination is, compared with other practitioners they've consulted. Our examination varies based upon what we discover during the evaluation of your health history. What we find will tell us which examinations we need to conduct. Most often, tests include postural evaluations, spinal palpation, muscle testing and other procedures to reveal neurological problems.
You may or may not be adjusted on your first visit depending on your examination findings and the discretion of Dr. Swanston. At the end of your first visit we will answer any questions you have and schedule your second visit.
Myovision
We utilize state-of-the-art equipment called spinal surface electromyography (sEMG). MyoVision is a state-of-the-art sEMG system that measures the electrical signals of your spine. Using this system, Dr. Helwig is able to identify parts of the spine that have normal or abnormal energy levels. The following picture shows an "ideal" energy level (left) next to someone with some severe vertebral subluxations that are disrupting the energy flow (right).
X-Ray
Diagnostic imaging can help locate any bone abnormalities, fractures and reveal your spine's phase of spinal decay. It is important to note that this examination procedure helps us scientifically understand the condition of your spine. This examination procedure can help us better scientifically understand the condition of your spine. Both sEMG and x-rays of your spine give us a baseline for future tests so we can accurately measure your progress to see how your spine is correcting and your nervous system is functioning
---
Westside Family Chiropractic | (780) 486-4080